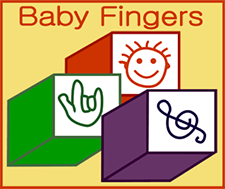 Join Us for:
My Baby Fingers:
Learn American Sign Language through songs and play with other parents/caregivers and children close to your child's age. Go home each week with new vocabulary and new tunes to enhance communication between you and your child! Whether you intend to incorporate sign language in your life for the long term or simply during this pre-verbal/developing verbal time, watch in awe as your child discovers the world of language. See the research come to life, as music and sign language both aid in the development of language and literacy. 

Tuesdays 1-1:45pm at A La Mode 360 E. 55th St. February 25th – March 31st (6 weeks) 
This specific class is best for ages 9 – 18 months. 

Advanced registration required. Details at: 
www.mybabyfingers.com/local-classes 
Look for "Midtown East" on the schedule and 
"Studio based / Other studio" in the PayPal registration link. 


info@mybabyfingers.com 212-874-5978 www.mybabyfingers.com