Here's the scoop: Our Story
As longtime ice cream lovers, we didn't want kids or adults with nut allergies to live in a world where they couldn't enjoy the tasty treat of some sweet delicious ice cream – so we did something about it.
First, in our critically acclaimed ice cream shop on New York City's Upper East Side – and now in our national product roll-out, a la mode ice cream leaves out the potentially harmful stuff (nuts, sesame seeds, and eggs), but leaves in all of the rich, satisfying taste of a premium ice cream brand.
With nut and other food allergies of increasing concern, it's good to know that a la mode ice cream is made in a state-of-the-art manufacturing facility where there is absolutely no chance of our products being compromised by any nut dust (or trace amounts of eggs, or sesame seeds).
Our delicious creations have already been widely recognized for their superior flavors and variety. This allergy-conscious, handcrafted approach – along with a mouth-watering menu of exciting new flavors – guarantees that a la mode ice cream will soon become an ice cream "superstar" in your store too.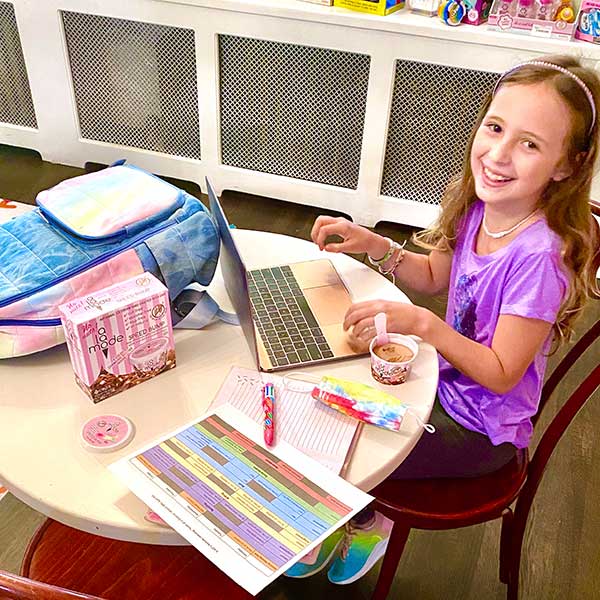 Social responsibility, mission & values.
Our customers, their families, and neighbors come first. We believe that a socially conscious community is an allergy conscious community.
A La Mode Ice Cream offers a delicious, creamy treat that is fun and safe for the person eating it and for those around them. Whether it is the sibling at home, the friend at school, or the adult at a party who is at risk, you know you can enjoy our ice cream and share it too.
Social responsibility is at the heart of our brand and our proposition to the range of frozen dessurt options available today.
"A La Mode Ice Cream is all-inclusive and mindful of the growing number of people who have allergies today. many of our customers had never been able to try a dairy-based ice cream before they tried ours, and it has been a magical experience in their lives. our goal is to provide children and adults alike with the delicious, joyful, and safe experience of sharing ice cream together
sandy roth, cofounder/a la mode shoppe
Where the heavenly ice cream magic happens!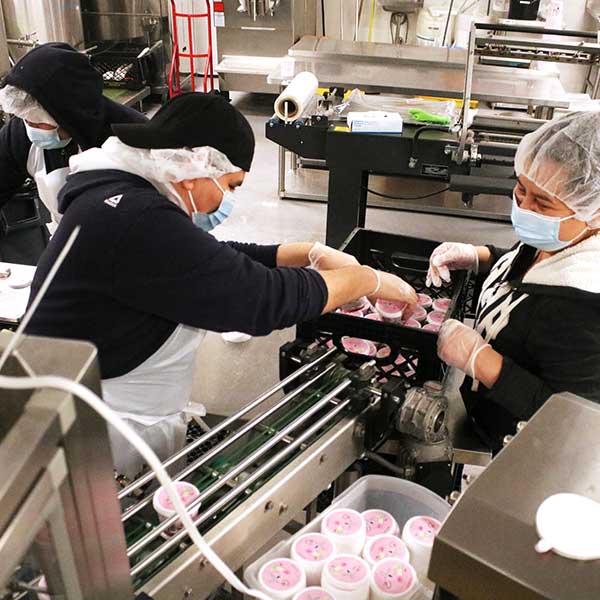 Our state-of-the-art, nut-free facility:
5,000 sq. ft. clean, modern manufacturing facility is located in the Hunts Point section of The Bronx. It is highly automated to ensure superior quality control and meticulously safeguarded to be free of nuts, sesame seeds and eggs.
An on-site R&D test kitchen allows us to add new flavors and seasonal specialty flavors. During the school year (when social distancing is not in effect) many students from nearby schools tour our facility to learn more about how ice cream is made.
Finally, the a la mode ice cream facility is HACCP certified. Hazard Analysis Critical Control Point is a food safety risk management system. It anticipates and prevents food safety hazards before a product is made.
HACCP certification is recommended by the U.S. Food and Drug Administration.
Where to buy a la mode ice cream near you?
Enter your 
or click on a category below to search for a location that carry a la mode in your area
in a store

at a scoop shop

in stadiums

in schools

at the zoo

summer camps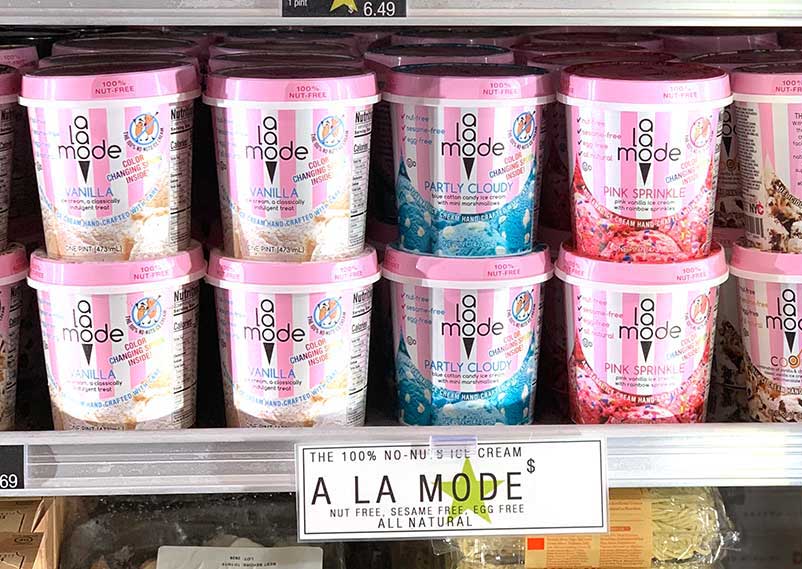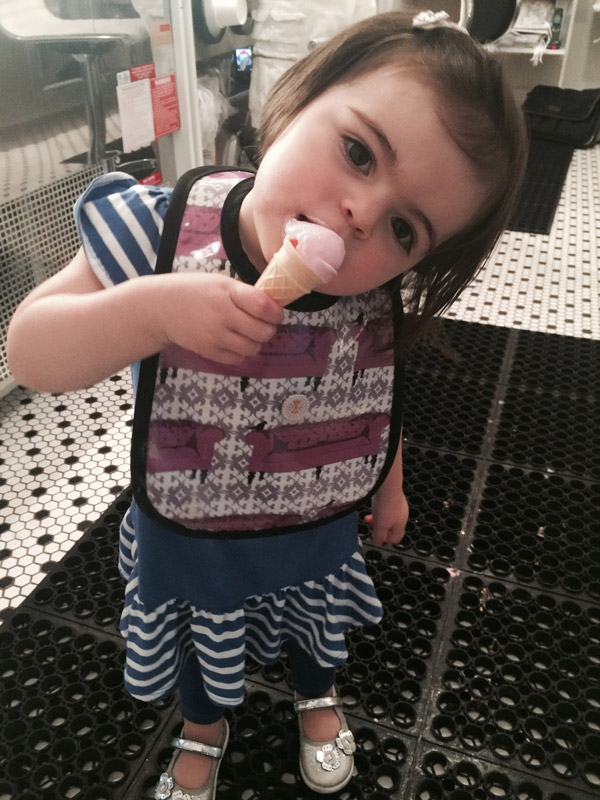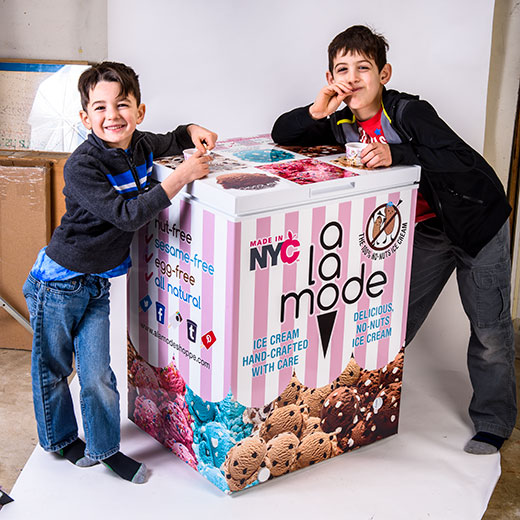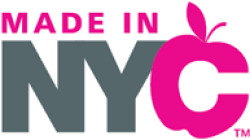 Stores and scoop shoppes that carry our ice cream may not always have all of our flavors in stock. If your favorite store or scoop shoppe is not carrying our ice cream or your favorite flavors, please click here to make a request! Customer demand helps us to expand our availability and range of offerings in your area.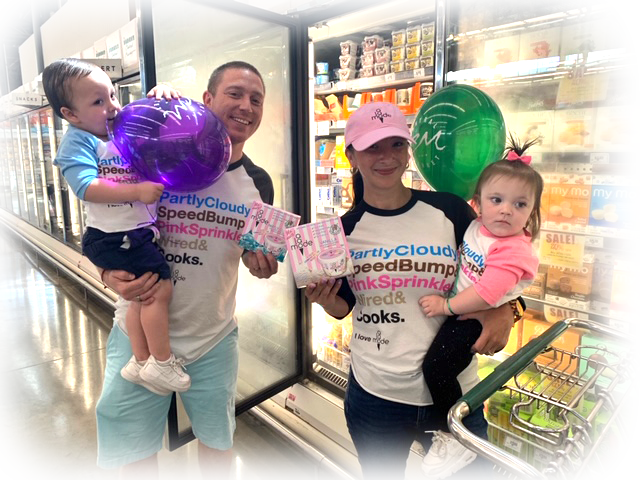 ice cream
We offer handcrafted, small-batch ice cream in a nut-free facility offering gluten-free and dairy-free option shipped directly to you.
boutique
Infant and children's apparel, toys, unique
gifts for children of all ages coming soon in our boutique
a la mode new york city flagship shoppe
Is an ice cream scoop shoppe & kids boutique
We offer handcrafted, small-batch ice cream in a nut-free facility offering gluten-free and dairy-free options.
In our boutique, we carry infant and children's apparel, toys, unique gifts for children of all ages. Come check out our party space and fun events for kids monthly.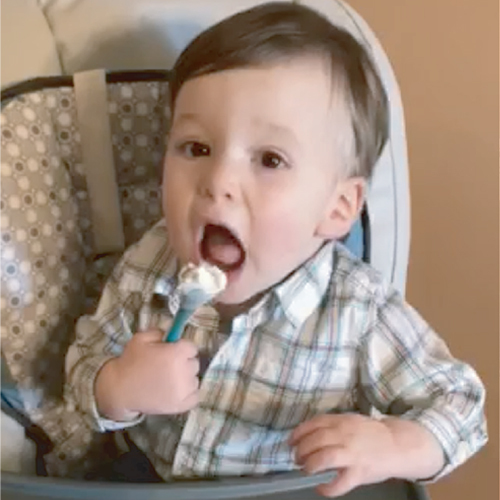 Coming from out of town?
During times when we host parties and other events at our shoppe, we are closed to the public. If you're in the area and want to visit us in person, please check our hours listed online or call ahead to make sure we're open for you!
Shoppe Hours
Tuesday – Sunday
12pm – 8pm
Monday – chillin'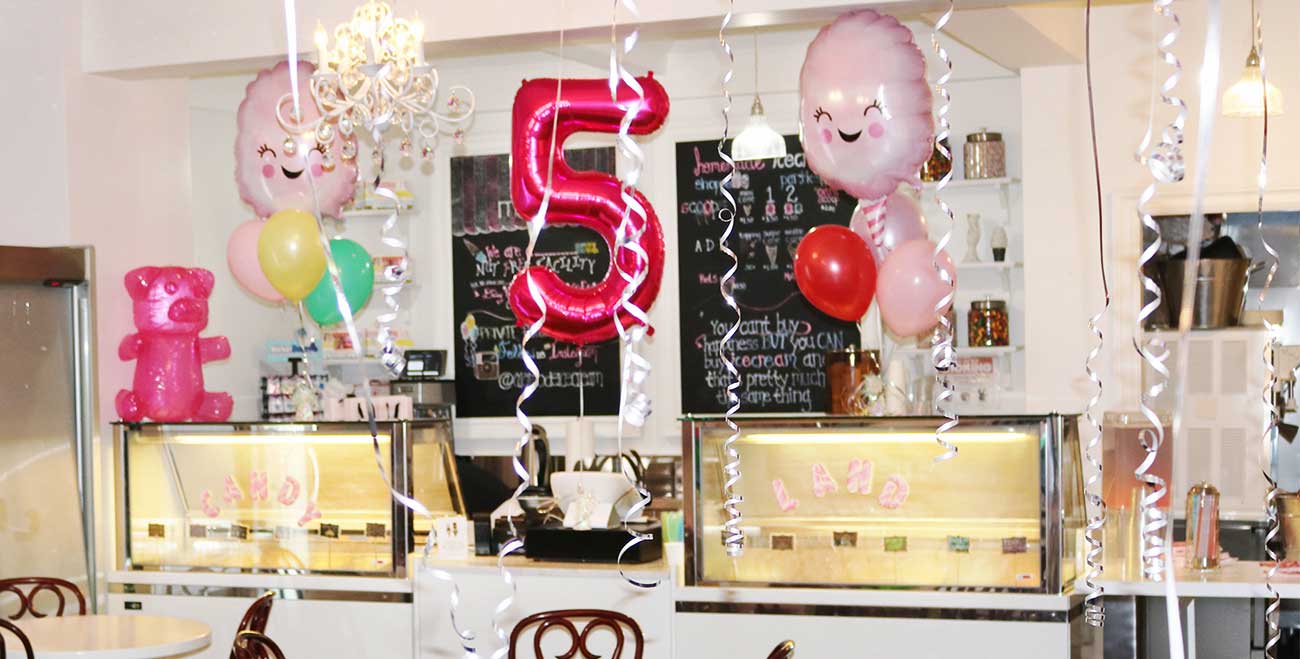 Bite into our a la mode delicious franchise
Trademark License

License to Operate

Operations Manual

Training Program

Marketing Support

Social Distancing Support

Unique Ice Cream Business

Ongoing Support
Could a la mode be your recipe for sweet success?
Thank you for your interest in becoming a la mode ice cream franchisee.
We will get back to you ASAP.
e-mail: franchise@alamodeshoppe.com
tel: 718-328-2300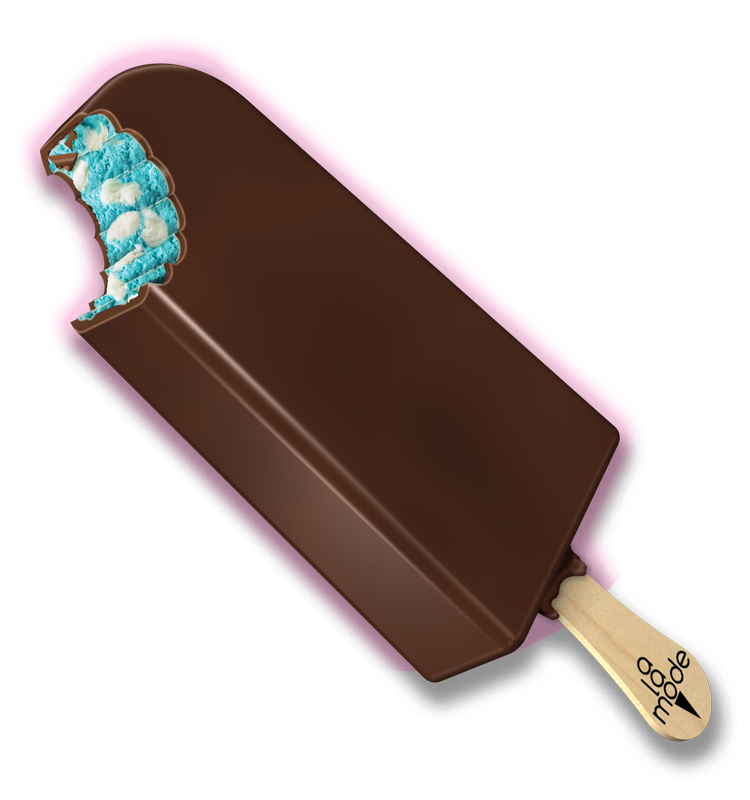 Our in-store COVID-19 policy in two words: Safety First!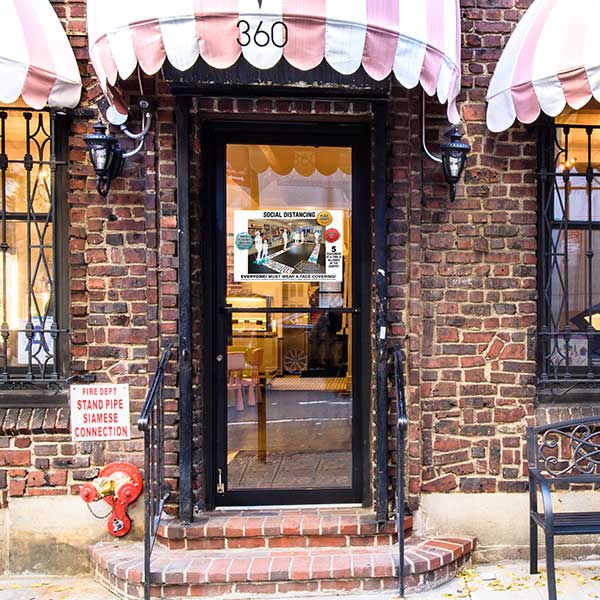 Your safety and well-being are out utmost concern.
We hope that you, your family, and all your friends, neighbors and loved ones are staying safe and healthy during this challenging time. And we want to assure you that the entire a la mode team is doing everything we can to keep our shoppe open – and to add the joy of our delicious ice cream products to your life.
We are complying with all Center for Disease Control and Prevention (CDC) guidelines and recommendations as well as all edicts and regulations as directed by New York state authorities.
Some of these public safety initiatives include:
Increased frequency of cleaning and sanitation regimens through- out our shoppe, especially in such "high-touch" areas as door handles, dispensers, touch screens and rest rooms.
We have retained a professional service to do weekly "deep cleans" of our store and manufacturing facility in the Bronx.
Each employee's temperature will be checked prior to each shift. Employees with temperatures over 99.4o will not be allowed to work that shift. Please note that the current CDC guideline is 100.4.
Each employee's temperature will be checked prior to each shift.
More frequent (and monitored) hand-washing is required. And more readily accessible hand sanitizer dispensers will be installed in all a la mode locations.
Signage that details COVID-recommended hygiene, such as hand washing, mask wearing, covering coughs and sneezes, and reminders to avoid touching one's face or in-store surfaces.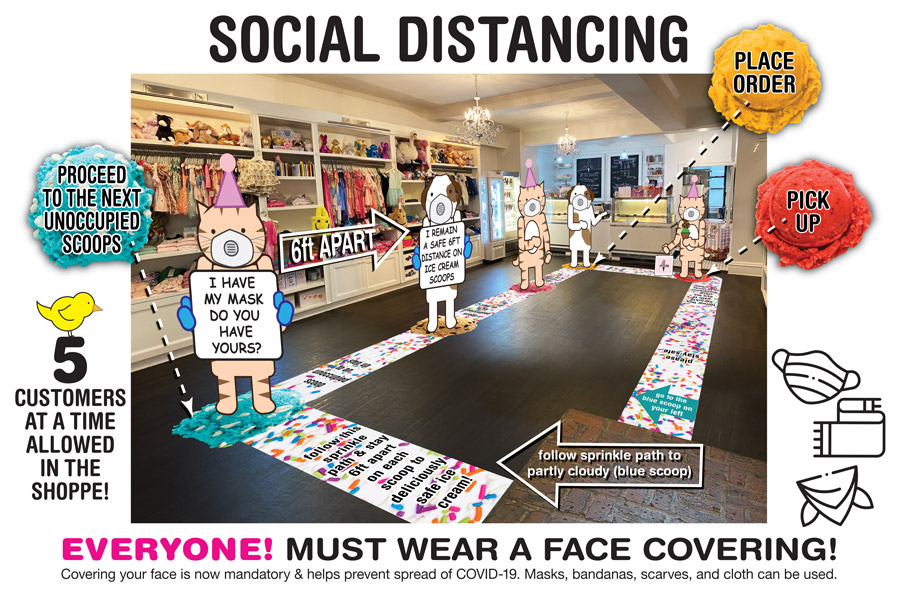 More lenient attendance policies to allow for all employees that don't pass temperature and/or COVID-19 survey screenings to go home.
No sampling.
Typical COVID-19 social distancing regulations: limited number of customers allowed in stores; customers must be masked and remain six feet apart; customers must leave store after their purchase.
As we continue to adapt to this "new normal," we remain committed to making you feel comfortable in our stores and with all a la mode ice cream treats that you purchase in stores and/or online. We will continue to comply with all official regulations and recommendations – because it has always been our #1 priority to serve you well!